Not Left Behind
Joel and Alan– Summer 1997
I really like the way Bev's blog shows This Day In My History, allowing easy access to posts from this day in years past. This started out to be a post remembering this day two years ago, based on the much more cumbersome method of digging through old e-mail files to remember what happened or seemed important June 1, 2005. The inspiration for this of course was a fleeting stab of grief for Joel that quite passed long before I could dress it up as a blog post, though I will leave this pic from the past above, since it is nice to see myself looking so much younger and all but giddy with happiness.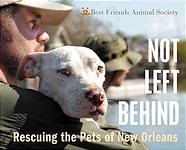 Yesterday I read a wonderful book, Not Left Behind, a highly visual account of the Best Friends Animal Society's work rescuing abandoned pets in New Orleans after Hurricane Katrina. The quality of the photographs is excellent. As heartbreaking as some of the rescue photos are, the later photos showing the animals being cared for at the temporary shelter and subsequently being adopted are joyous and moving. (And several of the rescuers are humpy.
When I post about a book, note that you can click on the picture to link to that title on Worldcat which is a kind of meta search site for public libraries. By entering your zip code (just once) Worldcat will locate a copy of the book at the library nearest you. If this doesn't happen to be your library, you should be able to borrow it through Inter Library Loan. Some libraries charge for this service but most do not. Check your library's web site or contact the Reference desk for details. Borrowing instead of buying saves paper and trees as well as space in your house. If you really do prefer to buy, click on the title of the book to link to an Amazon.com sales page. (I am not shilling for Amazon, btw, and do not receive commissions from them, the link is provided only as a convenience.) I will try to be consistent with these conventions going forward.
On Library Thing I post reviews for books that particularly interest me and that don't already have good reviews (good meaning informative, well written and helpful as opposed to positive or recommended) regardless of when the book was published, but here on the blog I think I am going to only post about new releases. Which means that I need to close the lap top and get back to my reading. So that's all for today. Having opened with an old pic of my old huzband I decided to close with a pic of my new hubby.